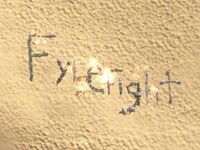 Fyrefights are games played between members of Fyreball on a weekly basis. Usually held on a Saturday, around noon PST. Players will get together, through online services such as Xbox Live, to play some of the most popular video games. Often focused on Xbox 360 games, particularly Halo 3, due to the high numbers of Bungie fans within Fyreball.
What happens in a Fyrefight?
Edit
Each Firefight is composed of players from around the globe, participating in the Fyreball community. Involvement in a Fyrefight only requests a membership at Fyreball.com, and a friend request sent to one of the two LIVE accounts (if available) "Fyreball Fans" or "Fyreball Fans 2". This allows the host(s) of the match to easily contact and invite a player into a game.

Each member is welcome to use the [Fyre] tag when available (COD4), or any of the Fyreclan emblems(Halo 3).
Fyrefights do not have a time limit; when the primary host of the Fyrefight leaves the match, games up to that point will be officially documented and reported in a "post" Fyrefight Fyreball. This Fyreball will showcase screenshots and videos (when available) of the Fyrefight. This is normally done by member GuzzieStyle. (member Delta0Medusa has also documented a Fyrefight)
After the Host leaves, players are welcome to continue for as long as they are willing, and later contribute their own experiences to the "post" Fyrefight Fyreball.
Information regarding the weekly Fyrefight is sent via a Fyreball on Fyreball.com, or on the Fyreclan.com web page. At the time of the fight, it is advised that the player be logged onto their account, for which the Fyrefight will take place (PC or Xbox LIVE). You will then be invited by the Fyrefight host (normally a unique member at Fyreball.com) into the game lobby, or match itself.
A Memberlist (and Fyrefight information) can also be found at the FyreClan website.
Games played in past Fyrefights
Edit
Xbox 360
Halo 3
Call Of Duty 4
Team Fortress 2
Grand Theft Auto IV

Xbox
Halo 2
PC
Team Fortress 2
Counter Strike Source
Marathon 2: Durandal

As of 10/04/2008, there have been thirty Fyrefights.
For game list, see Fyrefight Archives