Defnop is a regular user at Fyreball who joined at the 1st of March 2008. He is know for his often humorous contributions and comments and for the invention of the Fyreball only term "Lolwecs" (Laughing Out Loud While Eating Chicken Soup).
Defnop ( originally Defnop552) joined Fyreball through the Bungie Recon Armour link! Defnop enjoys reading the fyre chronicles, sketch's reviews and (this may seem big headed) his own posts on "101 things" Defnop plays the piano, guitar and also sings.
He is also often seen joking on the somewhat internal joke with San Ting, leaving suggestions in some Fyreball comments that the two know each other "better".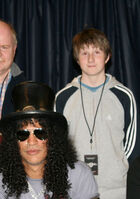 Defnop does not find the Fyreball members as a community, but as a family. Defnop has had a variety of catchphrases including- global warming... earth's puberty. and his current one - never leave your home, without a garden gnome!

Real name: Ronan
Age: 15
Birthday: 9/9/92
Location: Ireland
Favorite Fyreballs: funny, interesting, nice, argumentative, well...really, he loves them all!!
Unicorn approval rating (UAR): +17