CrazedOne1988 is a regular member of Fyreball. He joined on February 29th, when Bungie featured the website on their main page.
Actual Name: Chris
Age: 19
Birthday: Dec 30, 1988
Location: Utah or Maryland, USA
Team: Emo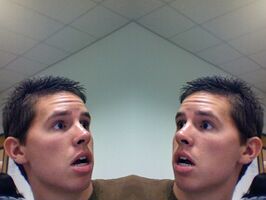 CrazedOne1988 is most known for his work documenting Fyrefights whenever they take place in Halo 3.
He is also a member of the infamous, but very sexy team known as Emo Team, along with Defnop, Rawr and San Ting.
Most of his fyreballs include updates on the popular machinima series, Red VS Blue, his Fyrefight Recaps, and other photoshop work.